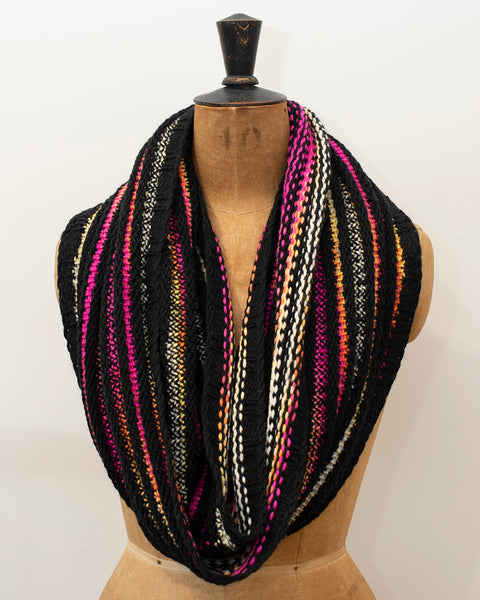 The All Sorts of Licorice cowl is knitted in the round on circular needles.

This yummy cowl is knitted in 10ply yarn making it a very fast, very warm and very satisfying project.

It's a fun and easy knit suitable for both adventurous beginners and seasoned knitters.

This is a perfect pattern to show off a highly variegated hand dyed skein - pair it with a high contrast solid colour to create a dramatic colour scheme.

Create an entirely different look with a low contrast solid colour to enhance the variegated skein.
This cowl starts with a 200-stitch cast on and is joined to work in the round.

It begins and ends with 6 rounds of 2x2 rib.

Two colours of yarn are used throughout and the yarns are carried up the inside of the cowl (WS) by taking the yarn that is not being used under and over the working yarn at the beginning of the round.

It ends with a very loose cast off.

The All Sorts of Licorice cowl can be worn wrapped two OR three times around the neck as shown in the pictures.