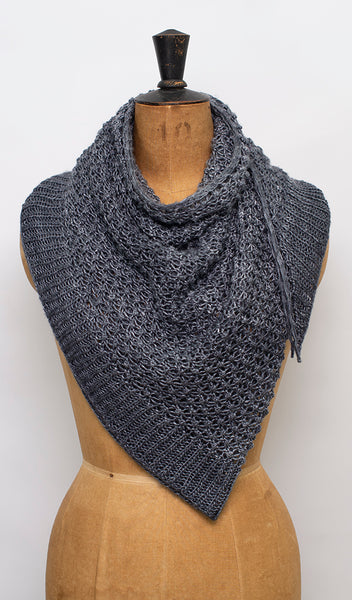 The Yarnberries Shawl is a knitted triangular shawl constructed from the point and finishing with a wide border of rib at the neck edge.
Knitted in luxurious 5 ply hand dyed Merino/Silk, the Yarnberries Shawl is a versatile, lightweight shawl. It's large enough to wear as a comforting wrap or fold it in half and wear it as a kerchief under a jacket.
Skill level: adventurous beginner through to the seasoned knitter.
Requirements
Yarn: 2 x 100g, 300m, 5 ply skeins of 50% Merino/ 50% Silk
Needles: 5mm circular needles with 80cm/100cm cable 
Notions: removable stitch marker, yarn needle
Gauge: not crucial - the finished size may vary depending on individual guage.
Finished size after blocking:
Ominous (grey) sample measures 125cm (sides) x 190cm (long edge)
Winterberries sample measures 115cm (sides) x 170cm (long edge) 
Same yarn, same needle size, different knitters, different tensions.
Winterberries yarn available here: 
https://theaustralianwoolstore.com/collections/yarns/products/50-merino-50-silk-4ply?variant=12767540904019
Ominous yarn available here: 
https://theaustralianwoolstore.com/products/50-merino-50-silk-4ply?variant=30923853398099